PIERWSZE WRAŻENIE / CZARNO NA BIAŁYM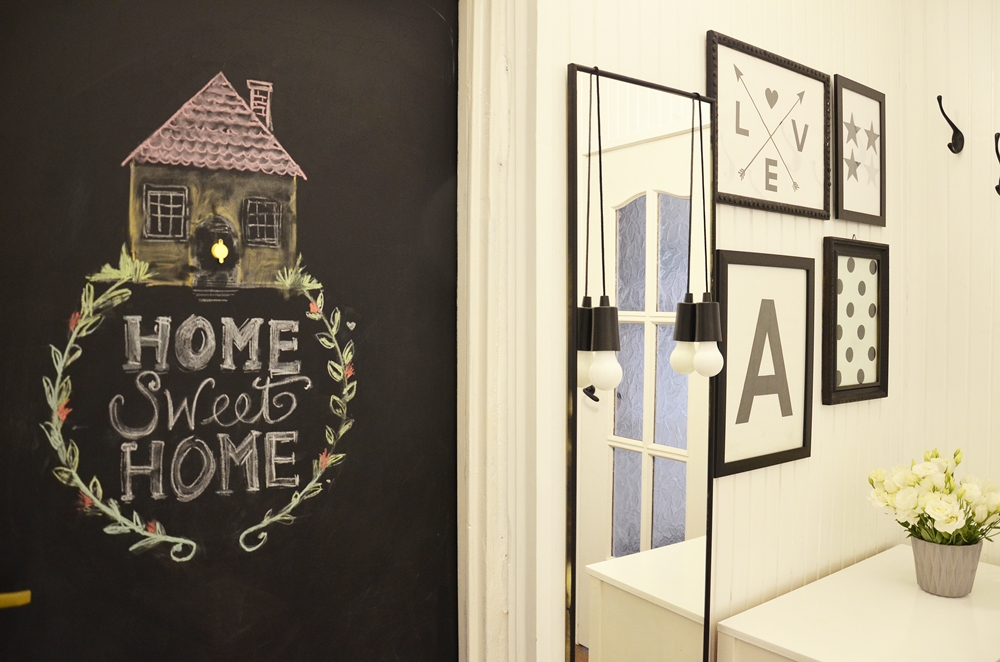 Wiecie jak to jest z tym pierwszym wrażeniem. Może być dobre, wspaniałe nawet, albo słabe, fatalne wręcz, ale zawsze jest pierwsze i jeśli je zawalisz, to kaplica. Drugiego pierwszego wrażenia już na nikim nie zrobisz. To jest taka jedna, jedyna szansa i albo ci wyjdzie, albo nie. Niczym saper, albo rozbroisz bombę, albo ją zdetonujesz.
Wie o tym każdy niedoszły zięć, który po raz pierwszy stanął na progu domu przyszłej teściowej, wie każda dziewczyna, która kręci loki na randkę w ciemno, każdy ubiegający się o pracę, każdy usiłujący uwieść pannę koleś, a nawet każdy proboszcz kiedy pierwszy raz wita swoich wiernych zapodając im orędzie z ambony. Pierwsze wrażenie trudno zatrzeć, a łatwo spaprać.
I tu właśnie zmierzam do brzegu, bo pierwsze wrażenie popsuć może nie tylko sałata między zębami, zapocona pacha, albo plama na krawacie, ale też brzydki przedpokój, hol, wiatrołap, jakkolwiek to nazwiemy, w każdym razie pierwsze wnętrze które oglądają zaproszeni i nieproszeni goście, listonosz, komornik i ksiądz po kolędzie.
Kiedy stoisz na czyjejś wycieraczce po praz pierwszy w życiu i czekasz aż gospodarz otworzy przed tobą swe podwoje, nie masz pojęcia co zastaniesz w środku. Czy oszołomi cię przestrzeń, czy zaskoczy ciasnota, czy powalą na kolana designerskie dodatki i ich cena, czy czeka cię efekt WOW czy slalom między przydeptanymi kapciami? Czy wreszcie to wnętrze powie ci coś o lokatorach? Czy przekornie, nie zdradzi niczego, zdradzając w sumie najważniejsze – to, że mają oni w głębokim poważaniu jakie ich przedpokój zrobi na tobie pierwsze, drugie, czy kolejne wrażenie.
Każdy ma swój gust, wiadomo – kwestia bezdyskusyjna, dlatego wielbiciel loftów pewnie nie zachwyci się kryształowym żyrandolem w stylu glamour, ale kiedy odsuniemy na bok kwestie osobistych upodobań, sytuację życiową, czy zasobności portfela zostaje nam tak naprawdę tylko chęć szczera i to chyba najbardziej cenię we wnętrzach. Chęć szczera zawsze się w końcu przerodzi w działanie i widać ją potem we wnętrzu. Mam nadzieję, że w tym naszym tymczasowym domu ją widać.
Ten przedpokój nie robił dobrego pierwszego wrażenia. Co tam dobrego wrażenia! Był ciemną norą obitą od podłogi po sufit niemodnym drewnem (klik). Przekraczanie progu tego mieszkania natychmiast psuło mi humor, było jak nie przymierzając pocałunek Dementora. Potrzebował naprawdę dużo miłości.
Teraz nie straszy, a wręcz przeciwnie jest jasny i całkiem przyjazny, a wśród najbliższych sąsiadów jest nawet atrakcją turystyczną. Przychodzą zwiedzać. Serio! (sic!) Szczególne zainteresowanie wykazują ci, którzy dekady lat temu popłynęli na fali mody na drewno w domu i mieszkają teraz mieszkają w ciemnych, smutnych norach. Otwieram drzwi i choć to nie jest jeszcze to nasze wymarzone miejsce, ani nasz wymarzony widok, to ten który mamy teraz daje radę. Przynajmniej już nie psuje humoru.
Przedpokój:
komoda – Ikea
uchwyty meblowe – Regałka
lampki (żarówki) – Tiger
osłonka na doniczkę, która udaje wazon – Leroy Merlin
***
Podoba Ci się tekst, albo zdjęcia, albo jedno i drugie? 🙂 będzie mi miło jeśli zostawisz pod nim komentarz lub udostępnisz go swoim znajomym, a jeśli chcesz być na bieżąco z tym co tutaj wyczyniam możesz polubić funpage na Facebooku albo Instagram.