MAŁA RZECZ A CIESZY – PODUCHY I UCHWYTY MEBLOWE W POKOJU DZIECI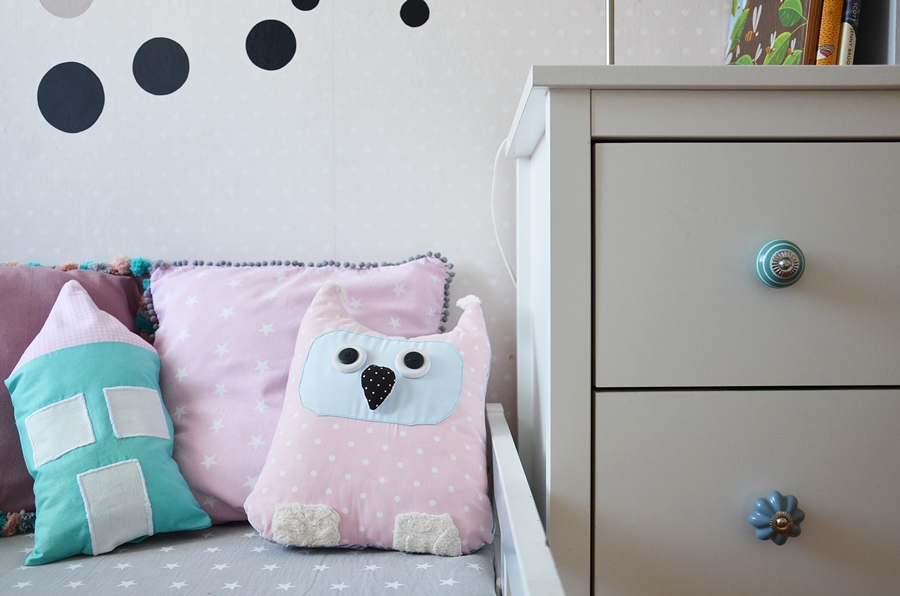 Dziecięcy pokój to miejsce absolutnie wyjątkowe, a przynajmniej takim z założenia być powinno. Ta przestrzeń, ma za zadanie zapewnić małym ludziom bezpieczeństwo i swobodę, a przy okazji stymulować, zachęcać do zabawy i rozbudzać ciekawość. Takie wnętrze – co dość oczywiste – musi być funkcjonalne, ale ja wychodzę z założenia, że przede wszystkim ma być tutaj miło, kolorowo, przytulnie. Ten pokój koniecznie musi być jakiś, choćby przerysowany i pstrokaty. Oryginalne rozwiązania i dekoracje, są tutaj jak najbardziej na miejscu i nie trzeba się ich bać. Przekraczając próg dziecięcego pokoju nie powinniśmy mieć najmniejszych wątpliwości, kto go zamieszkuje.
Już nieraz deklarowałam, że jestem wnętrzarskim freakiem, a na punkcie pokoju własnych dzieci to mam już zupełnego bzika, choć wolę myśleć, że to raczej jest jakaś misja specjalna niż taka klasyczna, zwykła szajba. W każdym razie na widok dziecięcego pokoju, w którym co najwyżej obecność zabawek zdradza wiek jego lokatora jest mi zwyczajnie przykro i od razu mam ochotę powiesić tam jakiś obrazek, łóżko przykryć fajną narzutą i rozrzucić na nim parę słodkich poduch.
Dzieciaki powinny przecież dorastać, mieszkać, kłócić się, rozrabiać, bałaganić, zasypiać, no żyć po prostu w kolorowych, wesołych, pozytywnych pokojach. Te wszystkie śmiertelnie poważne historie, całe to dorosłe, mało zabawne życie, zmartwienia, pełnoletnie troski i dojrzałe zgryzoty jeszcze przed nimi. Dzieciństwo powinno być kolorowe.
Dlatego właśnie, nie ustaję w staraniach, żeby ubarwiać dzieciakom ten ich maleńki świat, te kilka metrów kwadratowych, które na co dzień są dla nich schronieniem, placem zabaw, pracownią malarską, warsztatem samochodowym, sypialnią, a nawet a jakże – polem walk wszelakich. I przyznam szczerze, że jest to robota łatwa, miła i całkiem przyjemna. Najlepsze w niej jest to, że naprawdę niewiele potrzeba, żeby uzyskać fajny i myślę, że całkiem przyjemny dla oka efekt. Wystarczy kilka dzieciowych poduszek, które już same w sobie robią bajkowy klimat, parę naklejek na ścianę i najlepiej jakiś sprytny patent, który ożywi i zaczaruje najzwyklejsze nawet meble.
U nas tym sprytnym patentem okazał się posty zabieg wymiany gałek w szufladach komody na piękne, bajecznie kolorowe uchwyty meblowe, które znalazłam w sklepie Regałka.
Dzięki tej pozornie niewielkiej zmianie komoda naprawdę zyskała na urodzie, a taka metamorfoza jest banalnie prosta. Co ważne efekt natychmiast robi wrażenie, a największa trudność tego zadania polega na dokonaniu wyboru spośród niezliczonych przepięknych wzorów, kolorów i kształtów cudeniek dostępnych w tym sklepie.  Znajdziecie tam gałki, gałeczki, uchwyty meblowe i haczyki w różnych stylach, pasujące do bardzo różnych wnętrz.
Ja na stronie sklepu Regałka kompletnie przepadłam, a przeglądając kolejne modele zapragnęłam nagle wymienić gałki i uchwyty meblowe dosłownie w całym naszym mieszkaniu, w mieszkaniach wszystkich sąsiadów i w generalne w całej najbliższej okolicy.
Poduszki i dekoracje – diy
Uchwyty meblowe – Regałka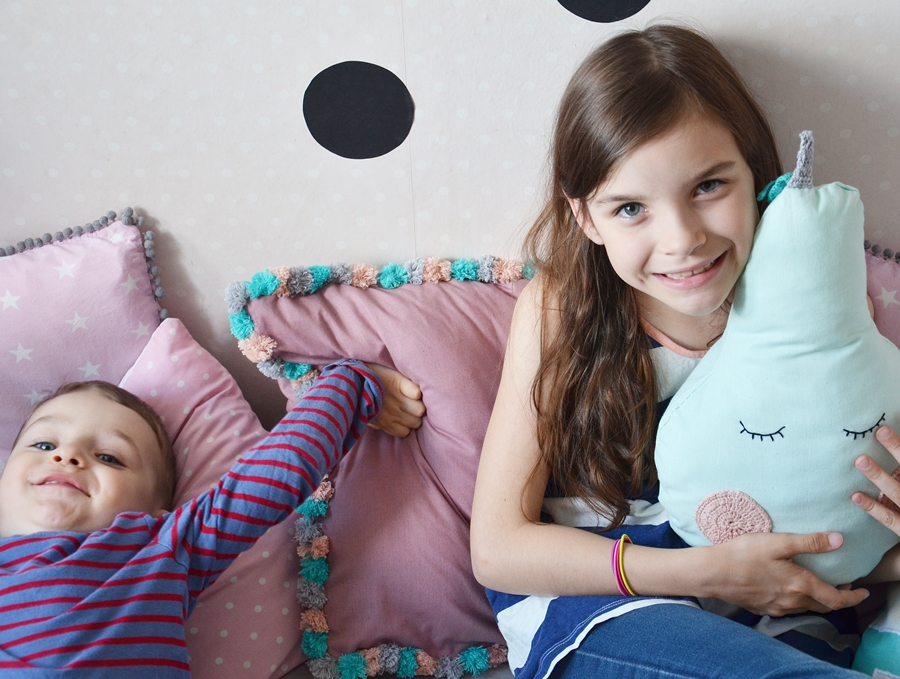 ***
Podoba Ci się tekst, albo zdjęcia, albo jedno i drugie? 🙂 będzie mi miło jeśli zostawisz pod nim komentarz lub udostępnisz go swoim znajomym, a jeśli chcesz być na bieżąco z tym co tutaj wyczyniam możesz polubić funpage na Facebooku albo Instagram.