UKŁAD SŁONECZNY – JEŚLI MARZYĆ TO NA CAŁEGO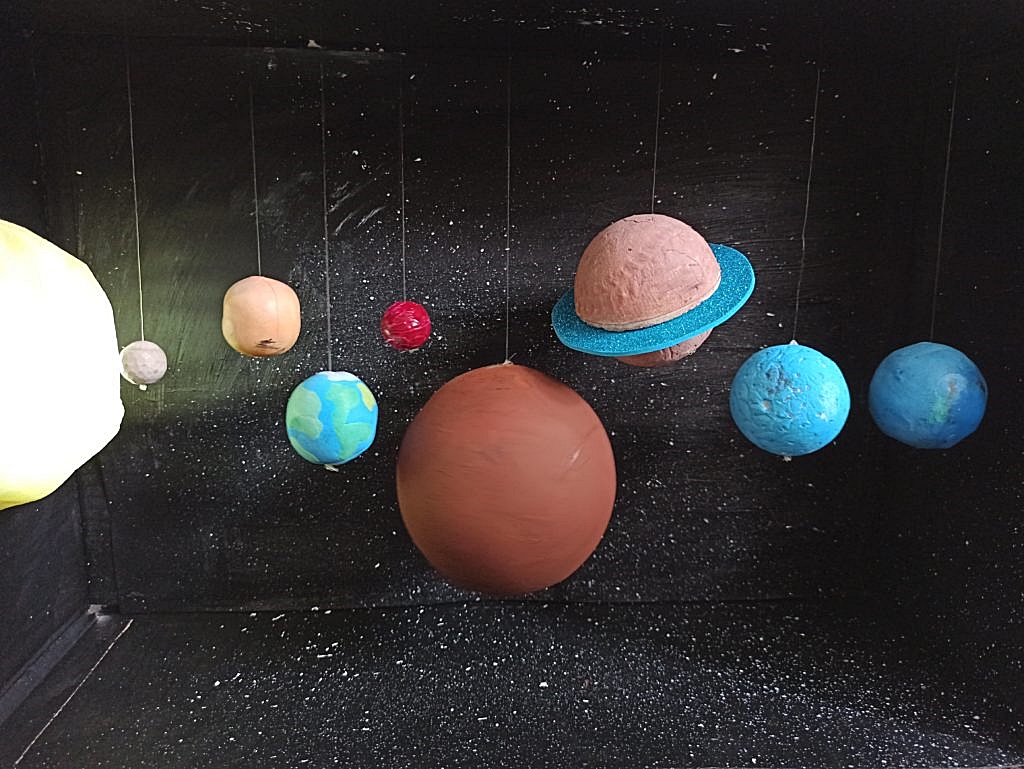 Chciałabym napisać, że wszystko jest gites i przebieramy już radośnie nóżkami na myśl o tegorocznych wakacjach, wyjazdach i zaplanowanych obozach. Niestety nie przebieramy, a raczej w lekkim otępieniu zaczynamy nieśmiało nastrajać się na plany mocno awaryjne. Pozbawione być może śródziemnomorskich widoków i smaków, za to niewykluczone, że bogate w stare, dobre, swojskie klimaty. I choć perspektywa zamiany włóczenia się po włoskich miasteczkach na fascynujące zapewne zajęcie jakim jest moczenie kija w zamulonym jeziorze może nie brzmieć mocno zachęcająco wiem, że dostosujemy się, damy radę i pewnie nawet będziemy się pysznie bawić.
Tymczasem okazuje się, że poszukując alternatyw wakacyjnych, optymizmu powinnam się chyba uczyć od własnego syna, który w nosie mając aktualne ograniczenia już dziś z nieustającym zapałem planuje swoje przyszłe kosmiczne podróże, twierdząc stanowczo, że będzie kolejnym śmiałkiem, który wyląduje na księżyciu. I ten jego niegasnący zapał właśnie natchnął mnie do działania.
Zatem, jako wspierający rodzic przyszłego astronauty przy użyciu kilku niecieszących się już zainteresowaniem piłek, niepozornej latarki i oczywiście przy uwzględnieniu uwag małego kosmicznego mądrali, zrobiłam, wykorzystywany obecnie do celów szkoleniowych w przydomowym centrum lotów kosmicznych model układu słonecznego. Podobno, jak twierdzi młody specjalista, Jowisz jest co pradwa za mało pasiasty, a Wenus odrobinę zbyt pomarańczowa, ale całość dostała akcept przyszłego załoganta statków kosmicznych, czyli krótko mówiąc: sukces!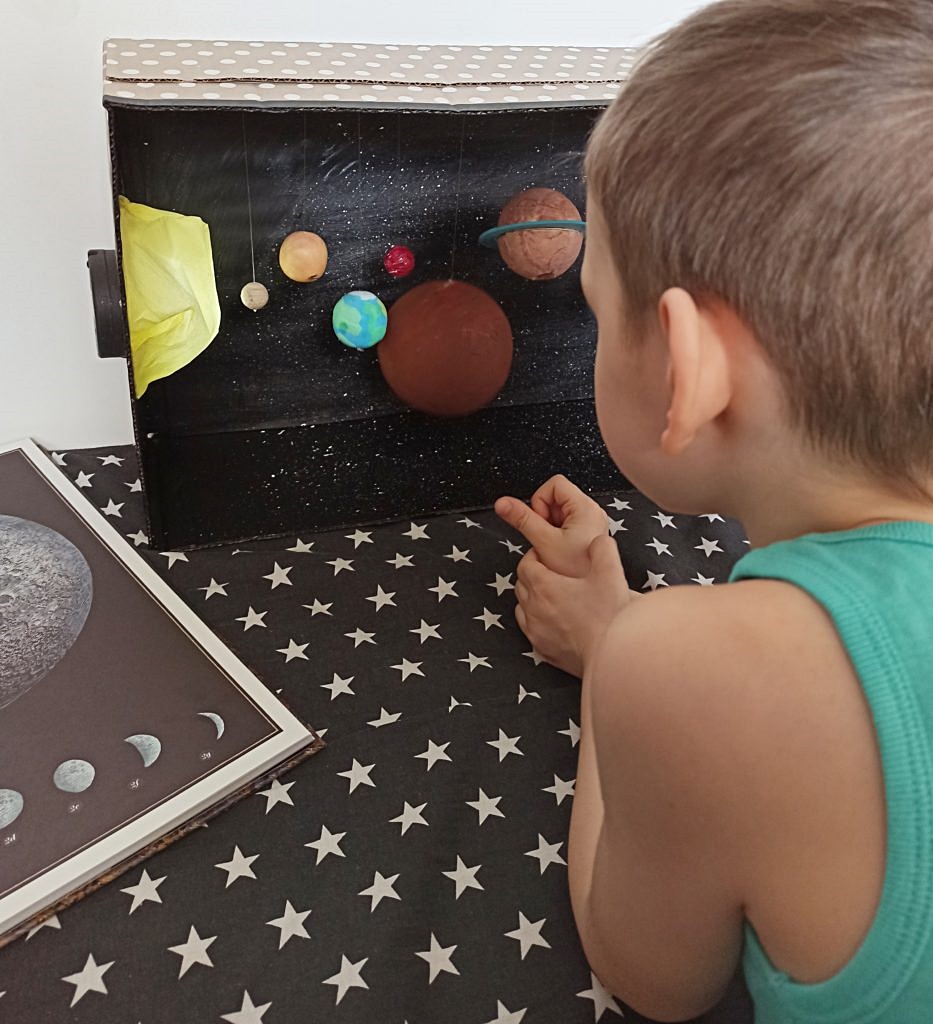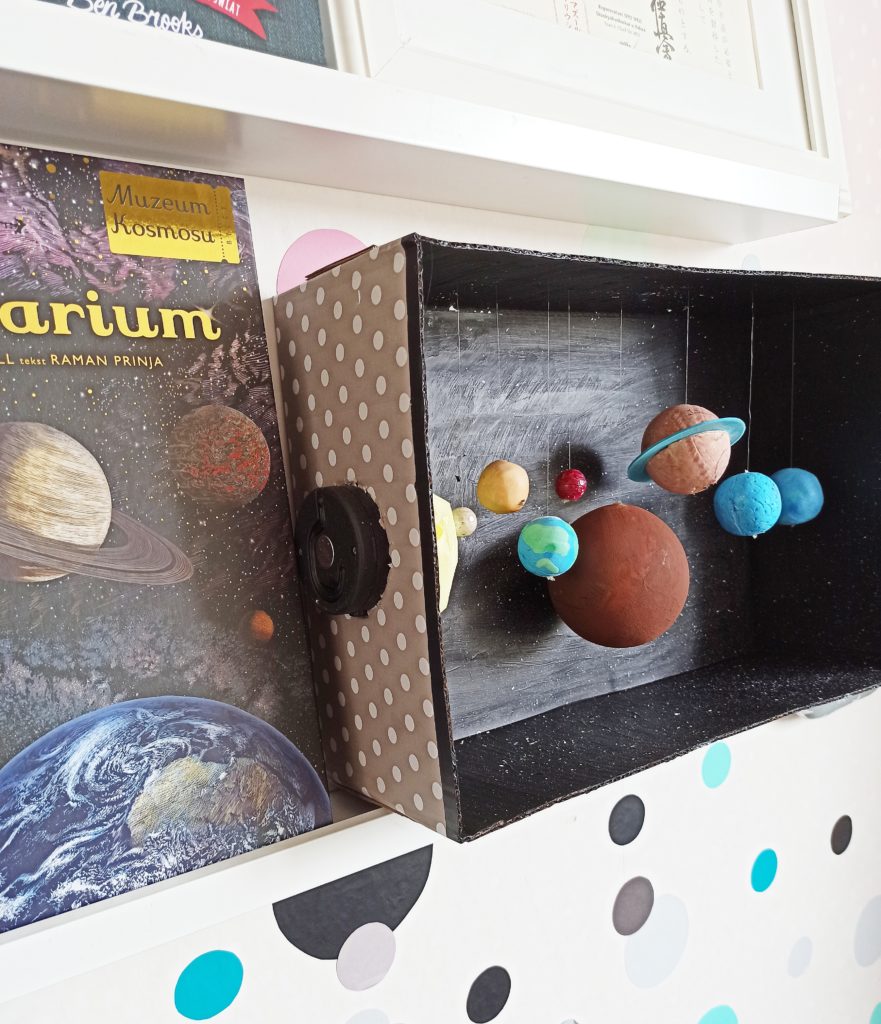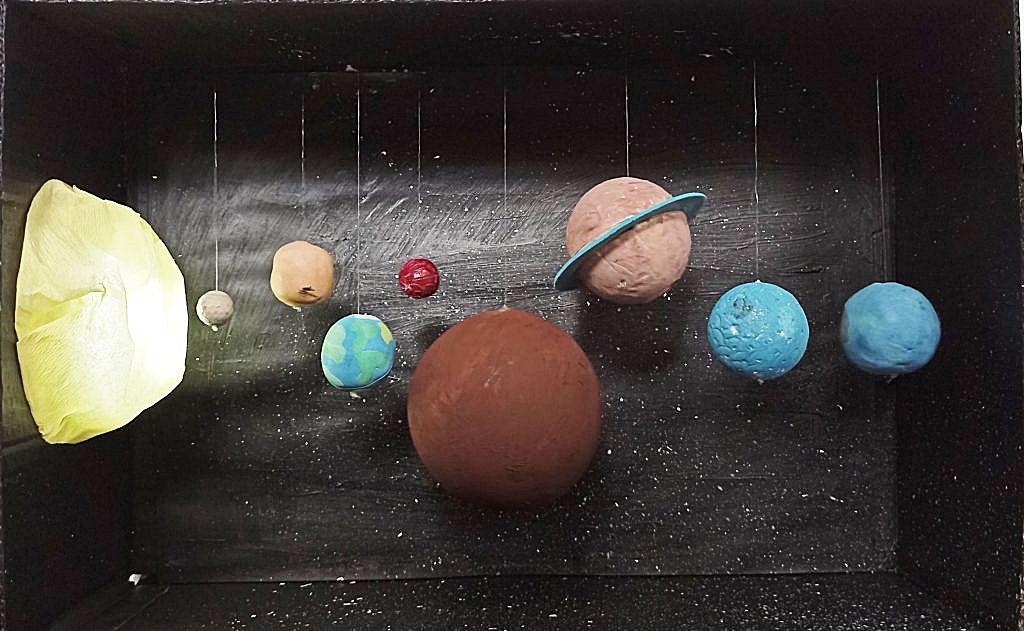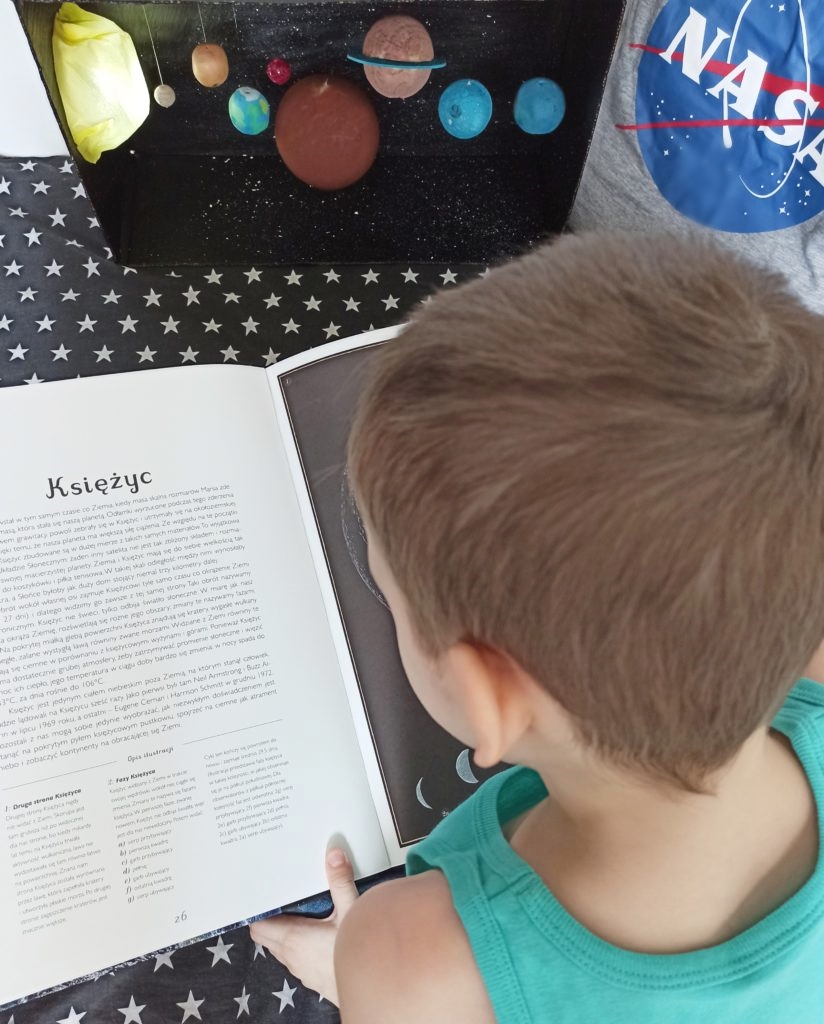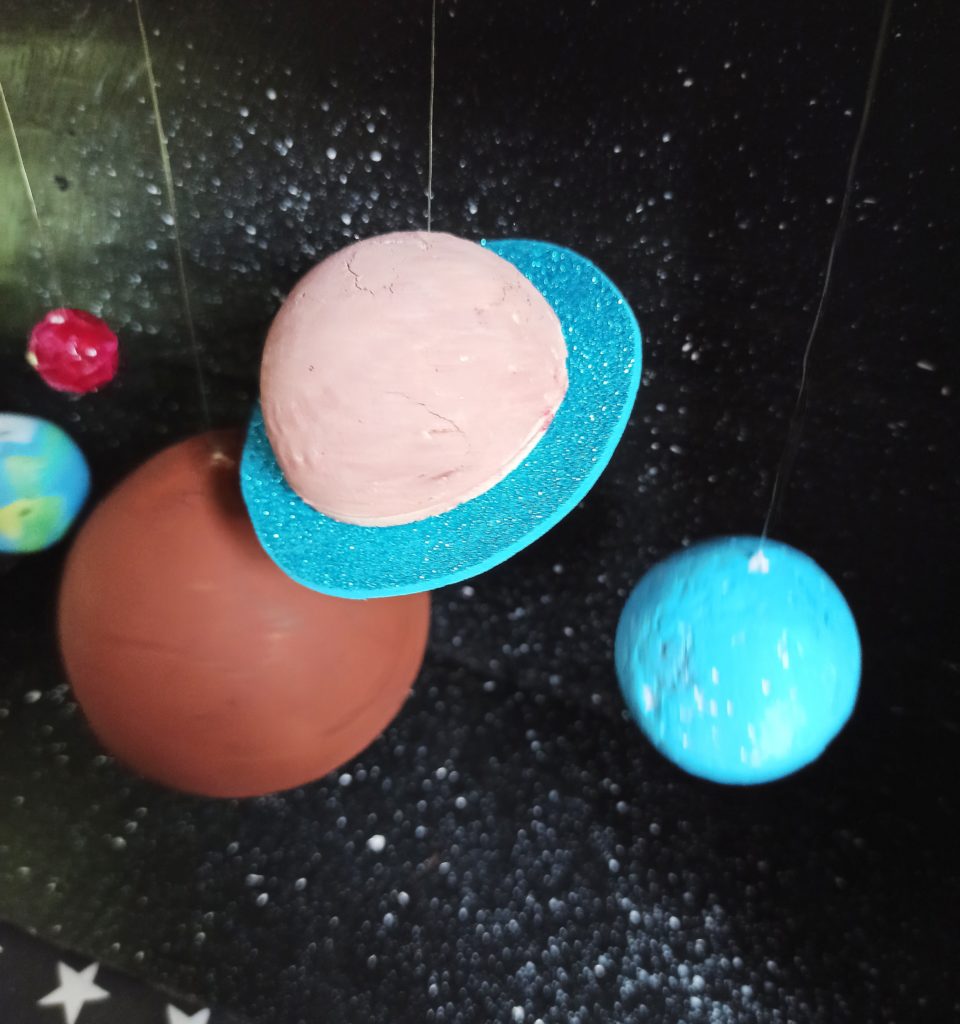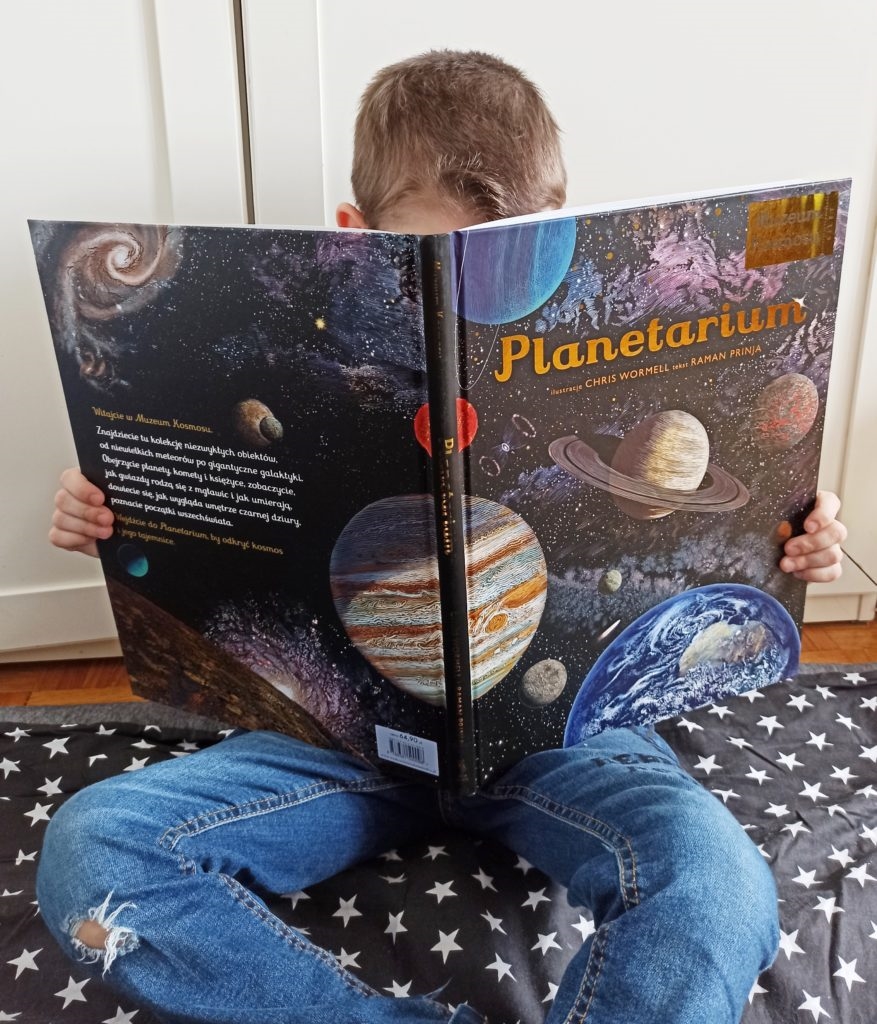 JAK ZROBIĆ UKŁAD SŁONECZNY"?
Potrzebne będzie:
pudełko kartonowe (najlepiej wąskie i długie, ja przyciełam po propstu karton nieco większych rozmiarów) – czyli nasza przestrzeń kosmiczna;
piłeczki lub kule styropianowe, koraliki i/lub modellina (wiadomo: planety)
czarna farba (do pomalowania wnetrza kartonu)
odrobina białej farby i stara szczoteczka do zębów (do zrobienia białych plamek, kropek, pardon gwiazd)
żyłka wędkarska i gruba igła (na żyłce zawisną nasze ciała niebieskie, a igła idealnie przebija się przez karton)
taśma dwustronna (do przyklejenia żyłki do kartonu – po przymocowaniu wszystkich planet, zamaskawałam od góry wystające kawałki żyłki dociętym kartonem),
mała latarka (wycinamy z boku otwór o jej średnicy, tak aby mogła udawać słońce)
kawałek żółtej bibuły/krepiny i klej (formujemy z niej słońce i przyklejamy od strony wnętrza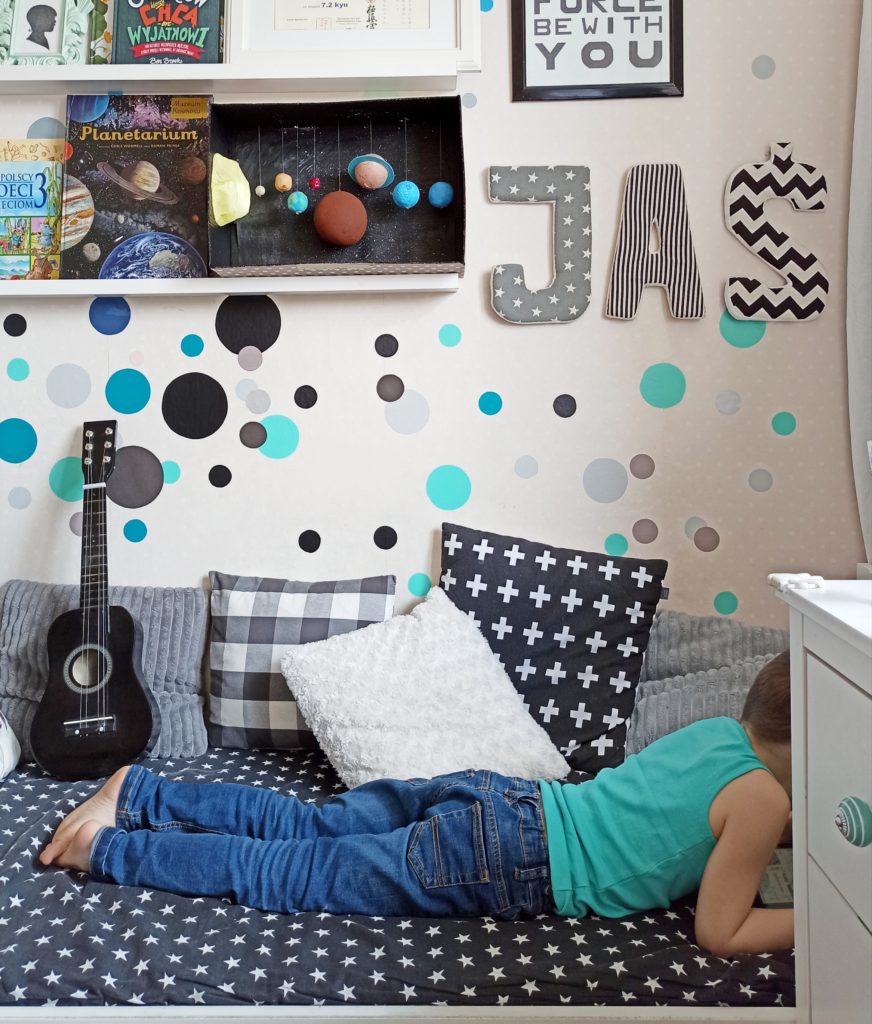 Na koniec wrócę do początku, czyli do tego, od czego się to wszystko zaczęło. A  zaczęło się niewinnie od wesołej piosenki dla dzieci, która tak bardzo spodobała się naszemu młodemu człowiekowi, że nucąc ją codziennie, nie tylko błyskawicznie nauczył się nazw i kolejności planet, ale zarażając nią nas uczynił z niej coś na kształt naszego hymnu czasu kwarantanny. Zatem kochani odpalacie i słuchacie na własną odpowiedzialność!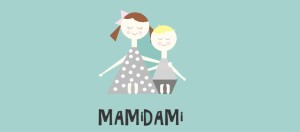 Jeśli Ci się podoba – udostępnij!